Table of Contents
5th Swiss Mechanical Keyboard Enthusiasts Meetup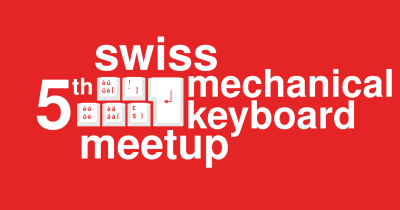 When and Where?
Date and Time
Saturday, 8th of December 2018

starting at 13:00

estimated end around 17:00
Location
In case of too many registrations we also have the option to switch to a bigger room in the same building. We will put up direction signs in that case. Alternative room kindly offered by

revamp-it

.
Who
To estimate the amount of participants, it would be nice to register yourself here in the wiki in case you intend to come and especially if you intend to bring some keyboards.
What to expect?
lots of mechanical keyboards (modern and vintage)

other mechanical keyboard enthusiasts

maybe a keyboard-related talk or two

maybe some key cap grab bags

maybe a raffle

maybe a typing speed contest

a lots of clicks and clacks
Organisers
Historical Data