Table of Contents
5th Swiss Mechanical Keyboard Enthusiasts Meetup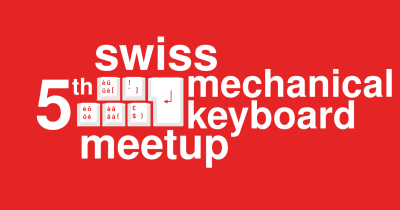 Photo Galleries
When and Where?
Date and Time
Saturday, 8 December 2018

starting at 13:00

estimated end around 17:00
Location
Same building, now ground floor and just beside the entrance of the originally planned location at the

CCCZH Hackerspace "Röschtibach"

(Röschibachstr. 26, 3rd floor), which is probably no more big enough for the currently registered about 70 keyboards.

Alternative location kindly offered by

revamp-it

, who will also have a few mechanical vintage keyboards to sell.
Directions to the Venue
Markers on this map:
Green field: Venue

Yellow arrow: Tram station "Wipkinger Platz" of tram line no. 13.

Blue field: medium term parking (needs paying, max. 2h)

Blue arrow: Blue Zone parking (needs parking disc, max. 1h)

Green arrow: Underground garage (needs paying, closes at 20:00)

Red arrow: Don't use, they're quick with issuing tickets! (Short term parking for ATM customers only.)
Who?
To estimate the amount of participants, it would be nice to register yourself here in the wiki in case you intend to come and bring some keyboards.
What to expect?
over 70 mechanical keyboards (modern, vintage, custom, self-built, …)

some keyboards for sale (vintage keyboards from revamp-it and others)

other mechanical keyboard enthusiasts

maybe a keyboard-related talk

maybe some key cap grab bags

maybe a typing speed contest

a lots of clicks and clacks
Organisers
Stephan (

/u/savf

): Label and Trading Cards, Logo design

…
Historical Data