Table of Contents
7th Swiss Mechanical Keyboard Enthusiasts Meetup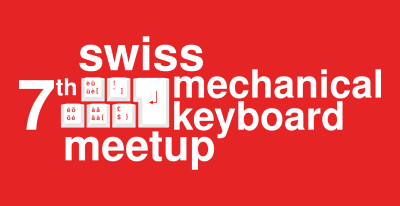 When and Where?
Date and Time
Sunday, 4th of December 2022

starting at 12:00

estimated end around 16:00
Location
Registration
To estimate the amount of participants, please register yourself here in the wiki. Mention explicitly if you intend to come and bring some keyboards to show or sell.
What to expect?
Come, see and discover keyboards, meet and discuss with other enthusiasts, and try and test hot new (or old) stuff! Don't be shy and bring as many keyboards as you wish to show them to others. If you don't have any, no problem, you're more than welcome to attend the meetup. This will also be a good time to sell this board you will never use or purchase this keycap set you're dreaming of.
plenty of mechanical keyboards (modern, vintage, custom, self-built, …)

some keyboards for sale (vintage keyboards from revamp-it and others)

other mechanical keyboard enthusiasts

a lots of clicks and clacks
Organisers
Sylvain (

/u/XCaellaX

): Announcements (reddit, kbd.news), Logo design

Stephan (

/u/savf

): Label and Trading Cards

…
Historical Data